Question Types Flexibility & Functionality In An Exam software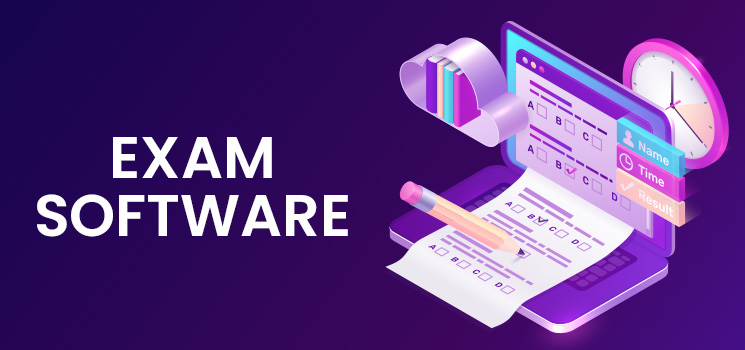 Perhaps, like many you must be also one amongst using online exam software to manage exams and assess your students better. But, did you ever realize that the software you chose to be flexible enough to define various question types? Because the pattern varies from one exam to the other, for instance national level competitive exams differ from state level entrance exams.
Understanding the precise requirements and exam conducting scenarios, eTutor has come up with a great customization of 10 different question types. Let's have a walk-through and explore how you can leverage each to make exams engaging, authentic and less monotonous.
eTutor Online Exam Software – 'QUESTION TYPES'
Multiple-choice: eTutor online examination software lets you create multiple-choice questions (Descriptive/Numeric), which allows the student or candidate to choose from 4 options. Jumble the questions, upload and define unlimited content scaling up to 999 questions on the cloud storage.
Matching: Analyze the learner's knowledge by defining matching type questions in the tests, which enable two columns. So one can match items from the 1st column to the corresponding items in the 2nd.
Fill-in-the-blank: eTutor lets you create a Fill-in-the-blank quiz at your school, college or institute in a Snap. Fill-in-the-blank-type questions defined test lets you analyze the recall power of your students so use them in instances where you want the student to supply the answer based on how much he or she can remember.
Multiple-correct: Create questions with multiple correct answer options and let you students earn the correctness grades based on their performance.
Drag-and-match: Configure your questions by enabling drag and drop text or objects over the concerned fields or predefined drop areas. eTutor lets you take leverage of making the drag objects as images and/or text. And yes, the drop areas can be added on an image background, or just alternatively as a field.
True/False: Create true/false question type quiz or test to assess your students effectively. A true or false question type is the best way to gauge your students' basic knowledge. Make the question quite tricky, but not simple and obvious to your test takers. Start creative interactive quizzes with eTutor for knowledge checks, measuring learning and skills of your students effortlessly.
Yes/No: Easier, quicker and less costly to analyze "Yes" or "No" question types are enabled in eTutor. It lets your test-takers give simple one word responses. Closed-ended questions with Yes or No responses even makes it easier for you to compare, analyze respondents performance and evaluate them better as there's no complex coding involved in it.
Essay: At eTutor, we made it easy for creators to define essay type questions, which require the pupil to plan his/her own answer and then to explain it in his/her own words. It unveils considerable freedom for test takers to select sections, organize and then present their ideas. Essay question type tests provide a better analysis of a pupil's real potential in learning.
Scenario-based: eTutor stands to be the most reliable exam engine that supports scenario-based question types, which helps your students to describe how they might respond to a hypothetical situation. Scenario-based questions aid to pin down the student thought processes and recite the learnings from memory.
Video-and audio-based: Give your students the power to record & submit the audio and video responses in quizzes you conduct, by defining question types related. Engage your students more actively, while having fun and creative exam attempting environments, so they can do well in actual final exams.
Final thoughts:
If your manual assessments are consuming all your valuable time and efforts, then it's high time to try eTutor to automate your exam needs and improve the assessment cycle!
eTutor is the most trusted platform by top international schools 'LAMBDON, ALPS, ALTUS', and many more educational institutions, schools and colleges. (You can see some of our valuable clients at Our Clients Page)
Our system is scalable and customizable, it supports both descriptive and objective type tests with all aforementioned question models.
Leverage our Inbuilt Question Bank that has surplus questions with solutions, crafted by educational experts.
The system enables a support of PDF, Image, Word, Excel formats for composing questions. Within quick turnaround time it generates real-time results with actionable insights for better assessments.
Schedule a quick demo – Our expert will get you through everything! or You can also reach us directly @ 8074762569
Related articles