eTutor ERP made for an effective academic activities management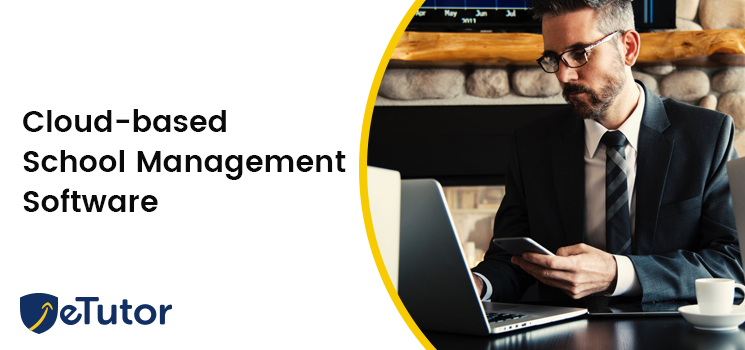 In the new age schools arena, you must be striving for an alliance that transforms your school into a smart one that embraces educational enhancement, by simplifying education & administration activities management, while connecting students, teachers, and parents on a single platform.
eTutor's ERP is one of the best & top-notch cloud based school management software ever made, that empowers you in managing your school's academic and non-academic activities efficiently.
Leveraging advance technology and automation, the ERP solution from eTutor Learning Labs aids a helping hand to hand over innovative teaching, student skill building, and triumphed administrative & managerial activity level.
The education world is moving on a great pace, it's time for you to switch digital solution and say good bye to monotonous tasks and welcome paperless technology to automate fee collection, track students' performance, simplify admission process, circulate study material and manage library catalogue.
eTutor's ERP is perfectly handcrafted to suffice all your school management activities, by enabling most convenient modules and keeping everything affordable in your reach.
Let's now breakdown every significant feature and drill down to its functionality, so you get an idea what makes it a best school management software in this line-up.
Intuitive Dashboard
eTutor's ERP dashboard has a wealth of information, where you can access data in realtime and manage exams, classwork, and homework. Graphical representation displays all the recent activities, which are carried out by the admin.
The entire panel is easy-to-manage and user-friendly, where you can have a consolidated view on students, teachers, exam list, schedules, and notifications.
Class and section-wise, the micro planer lets you navigate through the exam due dates, classwork timings, and homework status.
Data-driven reports and colorful bar graphs, chapters are remarkably visualized, which all together work as actionable insights for you to make better decisions.
Attendance Reporting
Seamlessly, record and manage your student attendance in multiple possible ways by integrating the biometric readers, RFID cards, and our ERP enables smartphone app accessibility.
All the attendance data is stored in the eTutor's ERP system, wherein you can generate class, section-wise attendance reports, and drill-down into the status details.
Furthermore, you can download the reports from anywhere at any time, as per your convenience.
Examination Module
We have made it easy for you to manage the complex exam conducting processes in eTutor ERP – School Management Software. Effortlessly, in few clicks, you can compose tests, by adding questions, assigning tests, and publishing results.
Streamline the exam plan and executive in a desired manner in your school or institution. Follow the systematic workflow, designed in our examination module for crafting pre-examination patterns, manage exam attendance and post-exam results, grades in form of reports for better performance analysis.
Every customization is so simple and easy, without an extensive knowledge and skills, the admin or examiner departments can customize subject-wise tests and schedule to particular group of students.
Student Module
Give the privilege to your students to participate in various online activities, right from attending live classes to attempting subject-wise tests, submitting assignments to test their capabilities.
Let your teachers of the concerned subject be available for students, where they can ask questions and clarify them instantly, without any long wait.
Student module in eTutor's ERP also let students participate in the discussion forums and do much more to enhance their communication and knowledge sharing.
Besides, the performance analytics illustrate where the student stand in terms of their ongoing activities.
Staff Module
Student connect lets your faculty and staff engage with your students effectively, by creating online assignments and sharing them through timely announcements.
The module also enables your staff to share e-library links with students and forums maintenance creates an enthusiastic collaboration of students.
Creating e-Syllabus, lecturer notes and teaching plans is effortlessly within eTutor's ERP, and there's an uninterrupted access and replying slot to address FAQs raised using this module.
Posting questions, adding students, scheduling calendar and running on-time notifications are at ease.
Notifications
Easy push notifications enable seamless communication, keeping the students up-to-date on exam announcements, online classes and syllabus grand tests. Connectivity loop is systematically aligned all the time, through SMS, Email and on Mobile Apps.
Remind and alert the staff as well as parents on important events, occasions, transactions and emergency situations – Everything on the go!
Recent notifications on the login make it easy for the user to stay on top of the information, without leaving anything behind unknown.
Fee Collection
The scope of error in managing student fee is zero within the fee collection module of eTutor's ERP, which make the work go smooth, reducing manual work and acquire paperless fee management
Unlike the stressed manual calculations, the module lets you define various types of fee (tuition, examination, hostel etc.) so you can communicate with the students in few clicks.
Flawless record keeping of fees is done as per class, course and subject-wise, with easy upload option. Collect your fees as per the suitable modes of online, offline or even via counters.
Admission Module
For many like you, the admission process seems to be coming with too much efforts and time involvement. But, with eTutor's ERP – Admission module, you'll evade all the paperwork that includes in registration process, batch allotment, form filling, enquiry and application submissions.
All your admission process is simplified with eTutor. The document repository is created and maintained in our ERP system, which contains all the scanned copies of individual student.
Enrolment numbers are generated in bulk, admission confirmations are sent through emails, document verification is done online – All in one uniformed system, without juggling around in registers or book shelves.
Library Management
You'll find an exclusive module, precisely designed to manage library catalogue which helps you keep a track of the transaction records of the books available in your library.
Right from the study material acquisition to listing subject-wise books and periodicals to the PPTs, PDFs, Videos and Images, all your cataloguing and maintainable is effectively management in eTutor's ERP.
Students can go login any time, whenever needed to access the required materials listed in the library, without any need to visit library physically.
Academic Timetable
Save time and efforts, create an error-free academic timetable in the virtual calendar using eTutor ERP – Academic timetable feature.
In few clicks, the admin can create flawless teaching plan and timetable, which actually gets automatically reflected on students and teachers portal.
The automatic timetable management features is designed to promote the paperless environment and simplify the circulation procedure.
Every event scheduled on daily, weekly and monthly basis is readily listed on the Full Calendar screen, where an authorized person can take action from then on.
Transport Management
We have made the transport operations easy and effective, which is now become an essential feature and every school demands for it.
For the safety of students, the management can track bus routes and keep the parents updated on their kids reach and get real-time updates on the bus.
eTutor's ERP is designed in a technology-driven way, so all the transportation details are maintained accurately.
It further supports the school management to stay alert on vehicle compliance, bus pick & drop points, route tracking, vehicle numbers, driver details and transportation fees.