Assessment Software 'Boon For Quality Education Delivery'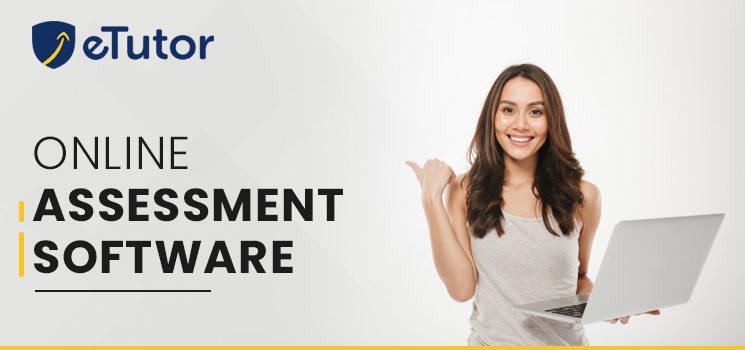 We all are aware that colleges and educational institutions have been following the traditional way of conducting pen-paper exams and assessing students' performance manually. But, in the modern-day era, it's fading out.
Conducting offline exams usually take an immense efforts and time of faculty or admin in the whole process, as it starts from question paper creation and ends at generating results. Even the assessment and supervision becomes a nightmare if the student count increase.
To take control over it and make the student assessment easy, with less human intervention, needs a technology-based system that leverages automation and intelligence. That's nothing but an 'Online Assessment Software.'
What is online assessment software?
Online Assessment Software is a widely accepted, most simplified web-based platform across the educational arena, which allows the user to conduct exams with ease and assess students better.
It removes the hassles in creating questions, defining instructions, allocating users, assigning tests, and populating results – Everything from one place 'On-The-Go.'
Overall, the entire exam conducting procedure and assessment cycle is streamlined after starting using Online Assessment Software. eTutor Corporate is one among the best software available in the, which allows admin/faculty to conduct any type of competitive exam and make candidates' performance monitoring effortless to improve the quality of education.
Technology-driven platform eTutor bring in the cloud, AI and Machine Learning to offer an avenue for improving student assessment and therefore student learning. ​
Not just confined to conduct exams & provide assessments, but this software has also proven to be the best in offering self-paced learning. Wherein students can take unlimited practice sessions while gaining insights on their overall performance, strengths and weaknesses.
Tailored for Government, Aided, Private colleges & educational academies, eTutor lets you conduct latest NTA pattern & CBSE standard exams and assess students by enabling micro-level insights.
Most impressive and unique features of eTutor is that, it supports item banking. Large number of items (questions) are precisely designed to match the learning outcomes, which can be stored and used by the test creators on an as needed basis.
In the span of 3 years about 500 institutions subscribed to eTutor assessment platform and almost all of them reported to experience better teacher productivity and improved results in student learning. 30% improvement in the overall results is uniqueness of the product usage.
Assessment Software Features?
Conceived and designed by educational experts, eTutor Assessment Software helps the user in redefining exam conducting & assessment procedures, while empowering candidates, teachers, admin department and high-level management. Let's take a walkthrough on its features:
Question Bank Management
eTutor providers a great convenience to make the best use of large-sorted inbuilt question bank, which brings in more than 50,000 plus questions with solutions, handcrafted by subject matter experts. Besides one can add/import unlimited questions as per desired type and format (Numeric & MCQ) Excel, Word and PDF.
User & Role Management
This features makes it easy to define roles and responsibilities of Faculty, Principal, and Parent for better assessment & seamless monitoring. Within few clicks, the import can be done in bulk.
Test Composing & Creation
eTutor makes it effortless in composing desired question paper and creating tests automatically, be it a practice test, mock exam or even a quiz. Besides, once can also send Email & SMS notifications to alert the students.
Smart Device Support
eTutor as an interactive system lets the user gain access from anywhere at any time as the smart device support is enabled to ensure splendid user experience and mobility.
Reports & Analytics
Advanced Reports & Analytics in eTutor are intended to provide in-depth insights on overall class/individual student performance with real-time data. Monitor the study progress as or when required.
White Label Branding
eTutor also lets the interested to enroll into 'White Label Branding'and maximize their profits, while increasing the reach of online assessment software to the students and educational institutions.
Self-Paced Learning
With eTutor, candidates can do unlimited practice as it offers large sorted Question Bank, learning resources and instant feedback for instant evaluation. That's how students can clearly understand their strength and weak areas.
Integration & Synchronization
Seamless 3rd party integration of SMS, Email & Online Payment Gateway is also enabled within the assessment system, so as to avoid any interruptions and result seamless connectivity.
How to create an assessment test?
Creating customized tests instantly is made easy with eTutor. As per the feasibility, the admin or faculty can go choose and assign students to schedule subject and chapter-wise tests from the timely updated question bank. It is made seamless in defining assessment based on the chapter, topic, sub topic. Moreover, the logo based study certificated can be printed as well post the completion of tests. Be it practice test, mock exam or even a quiz, the assessment test in eTutor is created at fingertips.
It doesn't just stop at test creation, but also lets the user to send email and SMS notifications to alert the student regarding the schedule.
Artificial Intelligence driven system 'eTutor' lets you create custom tests of your choice automatically. Design the question paper pattern you like, assign own set of questions or use the large sorted question bank. Schedule the tests and generate the results, everything in few seconds.
Step 1: Test Creation
All your test creation difficulty is gone now! Just enter the fewer required details like Test Name, Total number of Questions, Test Duration, Marks and Negative Marking, followed by Course. Your first step in creating the test ends there.
Step 2: Defining Questions
eTutor lets you create the questions your own way! Here, tests can be created in two ways – One is through picking directly from the pre-defined benchmarked question bank and the other is by adding your own set of questions for the particular Test. It's left for your convenience.
Step 3: Student Enrollment
Easy-to-use Interface lets you enroll the students individually or in bulk to assign the test. As per the class and section wise, you can retrieve the student data easily as or when required. You are all set to go for the final step!
Step 4: Publishing Test
Once after enrolling the students for the test, you can easily proceed to publish the test. Just selection the two fields, including Start & End Date along with the time slots. The system even allows you to extend the end date of the test if required.
Step 5: Test Alerts
Let your students know about the assigned tests through seamless communication of SMS, Email and WhatsApp alerts. Results notification can also be published among your students, to avoid the long wait of manual evaluation procedure.
Step 6: Insights
Detailed report analysis in eTutor allows the principal or higher management to view the overall class performance course-wise at a glance. Through graphical representation, the principal can easily figure out students performing average, above & below average in particular subject. Top and least score in the overall course and subjects can be viewed.
Insightful Analytics of eTutor gives an in-depth view on students' high & low performing areas individually. On the other hand, principal can also lookout for the teachers' job & role through 'Teacher Lookup'.
Different types of assessment?
Assessment process basically involves diverse shapes and sizes, with multi-faceted nature where educators can take the leverage to deliver the best learning process while effectively determining the teachers' productivity.
Let's dwell into the various type of assessments!
Firstly – The diagnostic assessment, it is used gauge the pre-knowledge of student. Where are formative assessments are held in the middle of a lesson or an academic year to determine students' progress.
Interim assessments are yet another category, which are best utilized across entire school or educational institution in a particular district in order to conduct tests and compare results among student groups.
Coming to benchmark assessments, they are mainly used to measure the progress in academics and analyze the performance of groups of students.
Lastly, the summative assessment is used to measure the success of students at the end of final checkpoint.
eTutor Assessments cover almost all from the aforementioned, which are being used by many educational institutions, colleges and academies as per their standards.
Every assessment solution of eTutor is precisely designed for the faculty or teachers to easily create custom tests and analyze students' study performance so as to give personalized attention and provide feedback. This way it not only simplifies the assessment cycle, but also improves the students' learning outcomes.
Final Thoughts
Amidst this pandemic crisis, it's ideal to move digital and switch to online assessment routine and improve the quality of education.
eTutor like solutions are the best way to leverage the integrated and inbuilt benchmarked question bank and AI based analytics to create tests seamlessly and generate real time insights on students' strengths and weaknesses.
Moreover, go for it as it's a hassle-free system that can be accessed 24X7 on the Cloud from anywhere, anytime and does not require any investments on procurement of Servers, software and maintenance.
The system can be aligned with the academic calendar and executed in both on-line and off-line modes based on the availability of infrastructure.
Therefore, eTutor stands to be a versatile and robust online assessment system, that is making difference in students learn better, teachers assist better and high level management gain a hawk eye view on the entire happenings across all the happenings.
Get started by visiting https://www.etutor.co/
Reach us@ +91 8074762569
Write us on: info@etutor.co