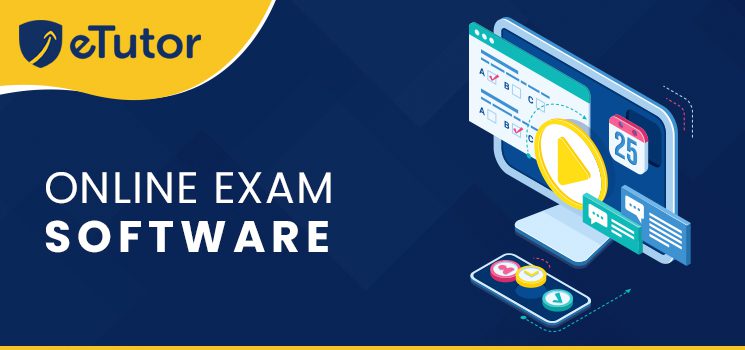 While the pandemic has changed our lives altogether, it has forced the entire educational sector to postpone examinations. This is where the online examination system has brought into the light to tide over the challenges being faced in conducting physical tests and performing evaluations at centers.
The ability to conduct online examinations require nothing more than an internet connection, which means that examinations are accessible to all students at any time from any location they're presently at. To overcome the present crisis, online examinations are the only answer in the education domain.
Technology transformation since inception has curtailed many drawbacks indulged in lengthy process of conducting manual assessments, which otherwise costed lot of time, efforts and money.
Let us now decode what exactly is an online exam software, its potential and all that it entails.
What is Online exam software?
An online examination or e-exam system is used to conduct tests digitally and enable seamless evaluation of students' knowledge, learning and command in understanding their creativity of implementation in new ideas and solutions.
Typically, from the generations 'exam evaluations' continued to be on pen-paper based approach, wherein all the students are gathered at one place and paper to be handed over with time allocation for exam completion.
And then, students would be submitting their answer sheets, later the evaluation happens and lastly, examiners discloses the student scores.
With the inception of online exam software solutions, the transformation has taken place in conducting assessments. However, the traditional methodology slightly persists in this process as well, replacing the examination center with online system wherein student has to login and attempt his/her test and share responses. Moreover, the evaluation and results circulation also becomes pretty much efficient for assessors.
What are the factors to choose e-Exam software?
Out across the market, we may find various types of online or e-Exam software across the market, that are catering to educational arena. Now the actual question is, how to know the best fit for your educational needs?
Well, let's resolve that dilemma which you probably have and for which, we are listing out few important points that help you decide the best online exam software for your precise requirements.
Interface and accessibility:
The whole point of technology driven online exam software is to simplify the process simultaneously your lives too. So, there would be no point in investing in a solution that's either difficult to understand or complex in handling.
Be it in training institutes, schools, colleges or academies, the major concern has always been the ease of accessibility in online test platforms, with respect to both assessors and assesses.
Therefore, the end user must embrace the freedom in the usability and that too from anywhere at any time with computers enabled of internet connection.
The online examination software you chose must be of cloud or web-based with no compulsion of downloading or installing the software.
Ease-of-use in test creation:
Many of the teachers and students may be relatively new to whole concept of online assessment procedure and for which, it requires crisp clear instructions on every single step of composing, scheduling and attempting online tests.
This can be simplified by enabling overall task demos and needful FAQs must be present across the software user guide or even on the website made available for easy reference.
The online assessment system must possess almost all the vital features and modules clearly illustrated, defined to create and conduct tests. It should have the flexibility to craft various question types or patterns, including MCQs, Numeric, etc. with easy upload/import feature of Excel, Word and PDF files.
Besides, there should be a relevant question bank made available along with the option to upload required question bank on the software, which helps the assessor in building questions.
Candidates are to be provided with equal convenience in attempting the test, which should start with easy login process. Additionally, if the candidate's details and credentials are present in the software system, with the option to edit and update – That again makes it a best online assessment system.
Scalability & customizability:
Especially for faculty or admin team in educational sector, the scalability and customizability of the computer based test platform matters a lot.
Scalability of the software ascertains that the educational needs are met, despite of how big the strength is for assessment. So, it should be backed up with robust server structure that enables high response time. During the times of power failure or any sudden mishap, if the server can hold up the data without losing – It makes a best scalable software.
In terms of customizability, if the software can align to the workflow of an institution, school or college – that makes it a best buy.
Reports and insights:
The reporting system of any reliable online test software plays a predominant role in the whole process, meaning to deliver comprehensive insights of the performance evaluation on the intuitive dashboard. Everything must be defined in detail, descriptive and easy to comprehend with drill down feature. Be it statistical or graphical, the representation has to be well explained and understandable.
Few main factors of the test report consists of candidate-wise, subject-wise and entire class/course wise with comparison analysis.
Easy to configure and integrate:
The online assessment system should also be open for white label branding, easily configured with the business logo. Everything has to be done in sync with the existing system without any conflicts.
Customer support:
Last but not the least, after all the computerized systems no matter how perfect they're still have glitches and are subjected to malfunction. So, it is a must to have a good support team who are actively available to resolve if any issues arise at any time.
What is the best school exam management software?
Perfectly crafted by the educational experts ever, eTutor stands to be the most Reliable, Easy-To-Use & Secured Online Exam Software and Assessment Platform, provided as Software as a Service (SaaS).
It has proven to be the best in helping many schools in conducting Competitive Exams, along with Quizzes and Tests.
The self-paced learning another best favourite part of students in eTutor, which helps evaluate themselves through insightful performance reports.
Clearing competitive Exams in today's world is NEVER EASY for any student without a STRONG FOUNDATION and personalized ASSESSMENT
eTutor is perfectly designed for Schools to help your 8th to 10th standard students while empowering teachers and improving education delivery.
Expectations on the Student
Sound knowledge of fundamentals
Good Aptitude
Ability to apply knowledge
Problem-solving skills
HIGHLIGHTS
Psychometric Test
IIT Foundation Content
AR Videos
Assessment
Virtual Labs
eTutor promises improved LEARNING outcomes and results.
More info @ https://exams.etutor.co/
Advantages and Disadvantages of an Online Examination System:
ADVANTAGES
There are many advantages of switching to an online examination software for educational institutions. Let's have a walkthrough!
Environmental safeguard
The age-old way of conducting pen-paper exams prone to have negative effects on the environment, considering the wastage of paper. So, switching to online solutions is the best way to minimize the damage and save natural resources. Amidst the pandemic, it is our responsibility and top priority to address the climate changing crisis, for which we need to adopt online examination systems as they would aid in safeguarding environment.
Minimizes labour costs
While setting up an examination, usually there is so much that will involve – starting from teachers and administrators to not only manage exams, but also enable convenience for every examinee.
Thereby usage of online exam platform will eliminate the redundant process and even cut downs the expenses of hiring an extra faculty. Altogether, it will bolster the administering team in the educational institution.
Time saving
The entire task of designing, scheduling and evaluating assessment consumes enormous amount of time. Online examination system reduced the time invested in overseeing the process and repetitive tasks.
Whereas, switching to online exam software gives you an option to add, import and upload questions, enable students to the exam and facilitate batch-wise examinations.
Dealing pandemic disruptions
COVID like pandemic creates ripple effects and ambiguity, where schools and institutions have to shut down. To minimize the disruption impact, online exam system is the great convenient and flexible option, where one can flawlessly conduct exams in safe and secured environment with infusion of technology.
Without glitches, it enables examiners and recruiters to scale up the evaluation process and make inroads into students' brighter career paths.
Refraining malicious activities
Online exams has the major advantage of enabling enhanced privacy of students, leaving no room for existence of malicious activities, cheating and unlawful practices.
The secured system, further allows every student to receive his/her results confidentially and encourages positive mindset and then suppresses negative emotions. A strong trust will be build towards the educational institution, ensuring transparency between teachers and students to generate bias-free results.
Eliminates overhead costs
Organizers generally grapple with the burden of increasing overheads, which involve costs associated with exam venue security, question paper printing, and providing exam answer sheets and supplementary material to students.
Switching to an online examination software, however, straightaway eliminates or reduces almost all of these overhead costs. Altogether it impacts the bottom-line of an educational institution, freeing up productive resources that can then be directed seamlessly towards the core responsibilities.
DISADVANTAGES
Open book examinations
Most often, the online exam format is perceived to be for some extent as an open book one. And, that's because, there is no provision of restricting access to study materials, which otherwise were not allowed inside the exam halls if considered traditional exam setting.
During an online assessment, it becomes difficult to stop the student from referring to a study material. Further, the supervision lacking in the online exam session will eventually jeopardizes the test credibility.
However, an intelligent and advanced online assessment platform like eTutor offers secured solution to address this complex challenge. So, examiners can put a curb on cheating by enabling proctoring functionality to keep candidates refrain from indulging into malicious activities.
Safeguarding the examination integrity is the sole intention behind it! In simpler language, if a candidate tries to open a new or multiple tabs on his/her browser, the session will be flagged as suspicious behaviour and terminated, so examiners can take appropriate actions.
Limitations regards to infrastructure
Yes, agree that there are ample of benefits that an online examination system can bring in to positively impact on both lives of teachers and students across the globe. But, simultaneously it comes with inevitable limitations regards to infrastructure.
Some of the infrastructural issues that can influence user experience are like, power shortage, steady internet connectivity, and other.
As the world of competitiveness evolve to grow, both state and national level exams are now on a move to online examination routine, creating an impact to reach wider audience. So, if implemented flawlessly, the online examination software is going to lend a great space for difference making, with its great flexibility, unparalleled ease of use, and widespread reach.
Teaching and assessment trends
Technology presence is already being witnessed in iPads, Android Smart Devices, Personal Computers, which actually avoids the need of transition to online exam software solutions.
Most of schools, colleges and educational institutions have already started using learning management systems, while seamlessly publishing the study material and learning resources on cloud. For instance, Moodle, Desire2Learn, Blackboard are some LMS systems being used across renowned educational bodies.
The ease of evaluation and grading is comparatively good and conversely benefiting, where students can now write their tests and submit them, from comfort of their home.
Any change in the existing structure will not only require some onboarding investments, familiarisation necessity.
However, if a software system encompasses all the comprehensive features then the transition becomes ideal to switch from traditional exams to online exams. With minimal training and less administration complexity, onboarding to a new technology makes a difference.
Apprehensions in computer-based tests too
Positive changes come with significant set of challenges. In the same way, conducting computer based online assessments also acquires own share of problems: one is technical glitches and other is cheating. The possibility of fraud, difficulty in conducting group projects or collaborative evaluations are evident.
National level competitive exams, considered to be the most prestigious entrance exams are being rolled out via online and offline. The regulatory acknowledges that online exams are extremely important for both candidates and examiners, and everything is done in a click of a button. However, power outages or system failure stayed as a bottleneck.
Final thoughts
Like every software system, online exam platform also has its pros and cons, but yet it depends on how effectively it is designed and features are offered for better candidates' performance evaluation.
eTutor, being India's most loved online exam software and assessment partner helps in conducting diverse range of subject & topic wise exams, quizzes and tests, enabling comprehensive assessment process and realtime reports. The entire process is customer-centric, precisely designed by educational experts in keeping the modern day trend in mind.