College Learning &

Exam Management


Software
Our comprehensive solution works on ambitious learning concepts, aimed at transforming and empowering colleges to deliver quality in education delivery.
Get Started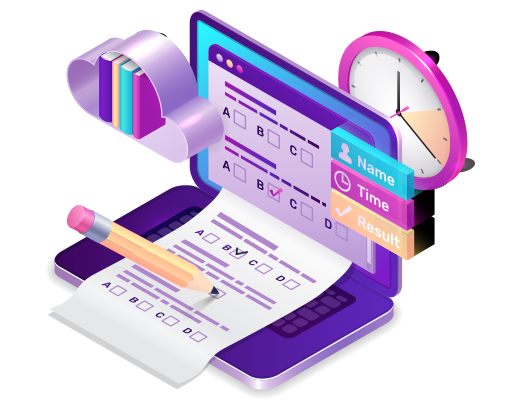 Leading colleges from top universities, whom we support
eTutor LMS Salient Modules
The education sector's prominent individuals with greatest minds have handcrafted every module in eTutor LMS to deliver better learning experiences to colleges.

Content Management
We've made it easy for you to upload and share Learning Resources or Question Bank of your choice.

Adaptive Practice Module
Great chance for your students to practice chapter-wise tests, curated with AI-based questions and various difficulty levels.

Student Progress Insights
Get better understanding on your students' performance and learning progress, for all tests undertaken across the college.

Exam Management
Effortless way to create class tests and publish results at teacher level and course exams at an institution level.
Doubt Clarifying Module
Uninterrupted communication between teachers and students, where doubts can be clarified and assignments are posted in a group.
Push Notifications & SMS
Get institution level updates & notifications on app and our LMS has a provision for you to send SMS to students.

Online Classes
eTutor LMS keeps you education delivery intact during unprecedented times by enabling virtual classroom.
Content Management
eTutor LMS lets you effortlessly upload, share and manage the content, related to chapter wise learning resources (Video Links, PPTs, PDF Notes). Upload the question bank of your choice. (multiple answer/single MCQs, match the following, fill in the blanks, )
Inbuilt QB for 11th to 12th
Question Bank Upload
Video Links
PPTs, PDFs
Adaptive Practice
Let your students upskill their self-practice routine by solving AI-based questions chapter-wise. It's like grooming themselves to stay competitive and perform well in actual exams. Yes, the reports of adaptive practice are shown on teacher, parent and student login.
Questions with various difficulty levels
Unlimited non-repetitive questions
Improves speed and accuracy
Optimizes time with smart preparation
Contact us
Student Progress Insights
Monitor your overall class or individual student's performance and their learning progress in real-time, for the tests taken across the college. Be it adaptive practice tests or teacher conducted unit tests or even quarterly/half-yearly exams.
Individual student performance analysis
Overall class performance analysis
Comparative college analysis
Subject/chapter-wise drill down
Doubt Clarifying Module
Enable a continual communication between teachers and students, where doubts can be clarified and questions are answered. Student can post a query whenever something raises & even teachers can post assignment, which reaches to the entire class.
Clear doubts in minutes, rather hours
No question remains unsolved
Subject wise faculty solutions
Anytime anywhere clarification access
Contact us
Push Notifications & SMS
Timely SMS alerts and push notifications on dashboard keeps you students, faculty and parents notified on the upcoming exams, college holiday announcement, external events and programs, which would be conducted in short notice or so. All in real-time!
Exams
Events
Holidays
Programmes
Online Classes
Going digital has become a mandatory thing in the modern educational arena, as attending physical classes has become so risky. So, eTutor LMS even gives you the leverage to conduct classes virtually, so your assessments and education delivery stays intact even in crisis times.
Integrated Scheduler
24×7 Cloud Access
Sessions Recording
Fully Secured
Contact us
Hear from our customers
We are proud of the service we provide and stand by our online examination system we cater. Read our testimonials from our happy customers.